Pin It
He swept you off your feet.
Your courtship was amazing.
He proposed and your wedding day went off without a hitch.
....and then came marriage.
Who knew living as two
fierce
human beings could be so hard? Dying to self daily and loving
fiercely
, the way Jesus calls us to, is hard!
Ask Q and he'll tell you that the Lord gave me a quiet, but
fierce
spirit. When things don't go my way or I'm passionate about an issue, I'm not afraid to let anyone, including him, stand in my way. And, I can admit, my fierceness has encouraged a few senseless battles in the five years that we've been married.
"You see, I thought my job (the "helper" role) was God's way of using me to help my husband improve. I could "help him" with his grammar, correct his awkward clothing choices, or instruct him on the proper way to hang his bath towel. With "helping him improve" as my job description, I became his worst nightmare...criticizing where he parked the car, decisions he made in the home, pointing out how he could've made a better choice. And with my fierce determination to do my "job" well, he retreated into his own silent world. He clung to passivity as the only safe solution."
Kimberly Wagner
In
Kimberly Wagner's
book,
Fierce Women
, she tackles the art of loving our husbands
fiercely
through Godly counsel, wisdom from the word, and prayer.
I read through Kimberly's book a few chapter's at a time and every time I set the book down, I wanted to love my husband better. I wanted to be the wife that the Lord has called me to be. I wanted to bring honor and glory to Him, through my fierce, God-honoring love.
I've known, for a long time, that I could love better; I just never had a practical resource to do so, aside from the word. I will be hanging onto this book
forever
. Filled with God's truth and the honesty of a woman who's not afraid to share her journey in order to impact other women's lives and marriages,
Fierce Women
hits the nail on the head.
"I realized I was guilty of presenting a faulty view of the love relationship between Christ and the church. I was guilty of marring this beautiful picture by my destructive behavior. I had to change how I treated my husband for the sake of the Gospel. For the sake of God's glory."
Kimberly Wagner
If you're a women and a wife, this book is a must read! I promise you will love better, love deeper, love fiercely; in a God honoring and glorifying way!
"Surely you've struggled with a desire to control, as I have. We don't want to emasculate our men, but we do. We don't want to live as the destructive fierce woman, but we do. But the good new is: There is victory!
Because of Christ's redemptive work on the cross, because grace flows when we humble ourselves and cry out to Him for help - we can give and receive love the way were created to experience. You, who are restless and weary of heart, find heart's rest here. Christ offers true love to you. You may never have known or even imagined a love of this proportion. We, who are helpless, can find our need fully met in this Man.
You may be longing for love, wondering through a wilderness of pain and isolation, I assure you - no love relationship can compare to the one He offers. The pursuit of love must begin here. Our first experience of true love originates at the cross."
Kimberly Wagner
a Rafflecopter giveaway
I'm linking up here: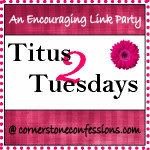 Moody Publishers provided a copy of Fierce Women for me to review and a copy for me to giveaway. All opinions are my own!
Pin It